I had an amazing experience watching We Players' performance of "
Ondine
" at the old ruins of Sutro Baths.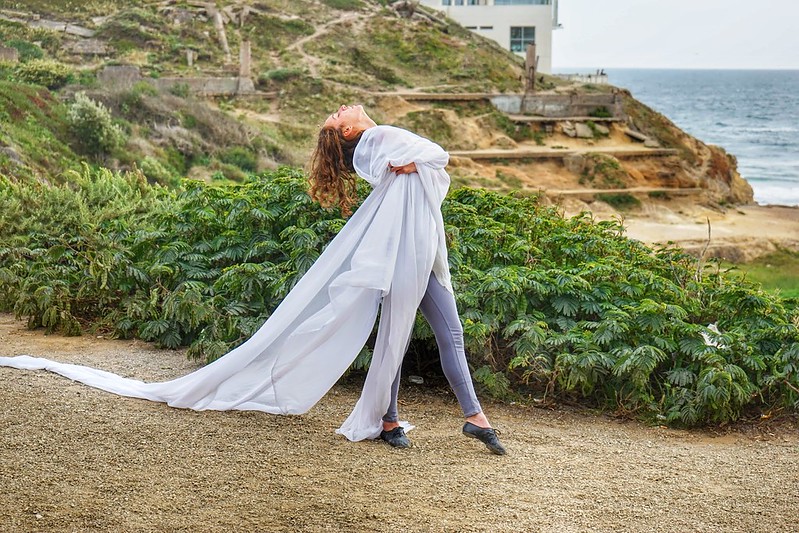 ==We Players==
For those of you who don't know:
We Players
is a performing arts non-profit that produces plays that is one of a kind...
They perform plays not in theaters but in amazing places. For example they've done Hamlet on Alcatraz, The Odyssey on Angel Island, Macbeth at Fort Point. They don't perform on stages, but in those places outside- they would walk around various locations during the play, and the audience has to follow them around while they change the venues. The distance between the performers and the audience is so close- I've actually had Ondine stand right next to me during the play. It's such an interesting and exciting experience.
==Sutro Baths==
The venue- Sutro Baths is an amazing place. It was a large, privately owned swimming pool complex near Seal Rock in San Francisco, built in 1896, and is now in ruins.
Sutro Baths vs Time
from
We Players
on
Vimeo
.
"
Sutrobaths
" by Original uploader was
Philbertgray
at
en.wikipedia
- Transferred from
en.wikipedia
. Licensed under Public Domain via
Wikimedia Commons
.
Thomas Edison visited Sutro Baths in 1899 to shoot some of the world's first video clips, which you can see here:
We Players selected this old ruins for Ondine.
==Ondine==
Ondine performances officially starts on May 1st, we were able to join the preview.
5/3 Update: their official program website got launched!
http://www.weplayers.org/program
We got to the gathering station, and we walked down the steps to the first acting point, watching the amazing view of the ocean.
As we near the first stage, the music performers appear and play music. The show begins, and we're not allowed to take any more photos ;)
Post from We Players' official Google+, it's pretty magical to be in the ruins with performers.
I don't want to do any spoiler of the play so won't write anything about the scenario here, but this is what their website describes:
"Ritter Hans Von Wittenstein Zu Wittenstein is a knight-errant who has been sent off on a quest by his dark-angel, his betrothed, the lady Bertha. In the forest, at the edge of the sea, he meets and falls in love with Ondine, a mystical water-sprite who is dangerously attracted to the world of mortals. The folly of their impossible marriage ensues and is at once comic, enchanting and heartbreaking."
End of scene 1, and we start walking to the next place.
The performers are performing around us and guiding the way while we walk so that we don't get lost.
The casts leading us the way...
And us following the cast...
Don't forget to look in the woods, since there's casts everywhere :)
Sometimes we have to go across the road- which takes us back to the real world ;) But the cast will be helping us cross the street. Such a surreal scenery!
Red light.
Traffic light is turing blue, cross the street!
We enter the park area, and more casts were awaiting us.
Overheard: "Oh wow, how do they find all these places?" as we approached the next stage.
It was truly amazing experience and highly recommend to give it a try if you haven't already. Tickets are still available here:
http://www.weplayers.org/ondine-at-sutro
And if you are going, bring warm clothes, since it is going to be freezing.
==Macbeth at Fort Point, 2013==
I remember the first time I tried to go to We Player's performance was "Macbeth at Fort Point" for 2013/10/10. It was during the U.S. government shut down... I bought the ticket well in advance, I didn't think government shutdown would have anything to do with my entertainment, and alas- Fort Point was government property and they couldn't open the gates and the performance got cancelled. This is the email I got on that day from We Players back then.
You can see some official clips from Macbeth here.
WePlayers - Macbeth at Fort Point
from
We Players
on
Vimeo
.
The Banquet - Macbeth at Fort Point - 2014
from
We Players
on
Vimeo
.
I've visited Fort Point in another occasion and it was awesome.
Photos here
:)
Too bad I missed Macbeth at Fort Point- looks amazing. But so happy I was finally able to see We Players!
Disclaimer: The opinions expressed here are my own, and do not reflect those of my employer. -
Fumi Yamazaki